This is part two of my Reasoned Recap of the SF Music Tech Summit 15.  For part one you can go here.
Companies Are Dying to Interact with You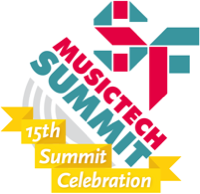 Up next was a brief session on "The Future of Integrated Media" hosted by Ezra Kucharz of CBS.  He showed that the focus of the media companies was heavily ingrained in mobile user interaction.  They are creating apps to get people's immediate reactions to their broadcast media.  An example he demonstrated in his presentation was a real time radio broadcast where the DJ would ask a question to his listeners and through with the app on their mobile devices, listeners could record a 10 second response which, once sent, would be immediately uploaded to the producer's computer.  The producer could then select a handful to line up and broadcast on the air while the rest were posted on the website for further discussion.
The other application Ezra discussed was the live even space, but the issue that they find with creating an interactive environment for concert goers is the fact that the arenas still have such limited bandwidth that it prevents shows where potentially 30K people would be interacting from being successful.
Get Used to Hearing 'Internet of Things'
For those of you that haven't heard the term "Internet of Things" yet, keep an ear out as it will be mentioned frequently in the tech sector.  What the internet of things (IoT) is about is how more and more devices are coming with network connectivity which allows for consumers to interact with them over a network.  Think of how you can currently use a tablet to control you TV, cable box, DVD player, a thermostat, or perhaps even your coffee maker.  That is the very essence of the internet of things.
The panel at the SF Music Tech Summit, though, was focused on wireless audio and how it would play into the IoT.  The panelists started with a blanket statement that they all agreed to by stating music is an emotional connection and the driving force behind IoT.  As optimistic as that statement is, it just isn't true.  IoT has been driven by the ability to have wireless control of devices around your home.  Having the ability to send signal, high quality audio in particular, wirelessly over larger areas is still emerging and relatively new by comparison.  But the intent in their statement is correct.  All manufacturers that have an investment in wireless technology are looking for ways to transmit signals between devices over greater distances without the loss of quality.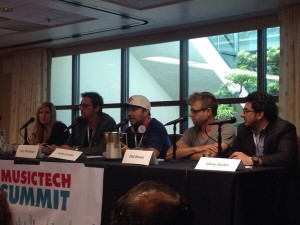 As IoT is a relatively simple idea that people are already using, whether they know it or not, the panel took this chance to not only discuss the technology but additionally the concerns that they face as all four panelists were either hardware or service providers of the technology.  As this was a music summit, they discussed how wireless transmission of signals is driving a contextual conversation about the quality of the audio recording and how, as manufacturers or service providers, it is their goal to improve the quality available to the consumer.  This was capped with commentary about how as we have seen the quality of video evolve and improve over the years, yet audio has taken the inverse route with signal quality declining.
Gary Brotman of Qualcomm, which manufactures AllPlay an open source smart home media platform, brought the conversation back to IoT by saying that "interoperability will make it succeed."  This means that all devices, regardless of manufacturer, should be able to communicate on a common platform.
The Internet of Things is still a fresh topic that is developing.  There is a lot to consider with the need for common device control protocols, a drop in quality of content, as well as who will handle the integration of these kinds of devices in the home.  Some of them are simple enough for the everyday consumer to install, but as systems grow so does their complexity which means an integrator could be a better option.
And Now We Party
With the final set of panels concluded everyone headed for the main ballroom for networking and the open bar.  The place was buzzing with conversation over the Apple/Beats deal, the potential Twitter/SoundCloud purchase, and everything that was discussed in the panels during the day.
You could feel the excitement from the attendees that just got an overload of information to help inspire them as they look to move their music career or tech development forward.  And no one personifies that excitement more than Brian Zisk.
In talking with Patti Silverman during the day I mentioned how his energy really brings up a room.  She replied "even at his lowest energy level, he's still higher than I am at almost any time."  If that is the kind of energy driving the convergence of the music and tech industries in the San Francisco area, then I'm grateful to have been a part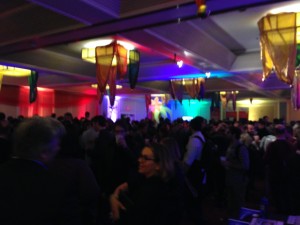 of it and can't wait Summit 16.
Product Notes From Summit 15
In addition to all the panels that take place, there are also several companies that had exhibit booths running throughout the day.
Parent company Senzari was showing off their Music Graph technology and Wah Wah Networks.  The Music Graph is a new music recommendation engine with contextualized playlists based on mood, location, and feeds.  Wah Wah provides online media for publishers.  Essentially the services places a media bar on your site with content based around your readership.  It does play ads and they share the ad revenue with those signed up for the service, but with the content they are helping to keep readers on the sites longer.
Station Digital was in full force discussing their streaming media service.  They are a little different than Netflix, Hulu, Pandora, or Spotify in that they offer music, movies, TV, and even books.  Their model is based around commercial driven revenue, for now, where for every hour you listen you acquire 1000 points.  You can then take those points and purchase things in their online store like hats, t-shirts, and other items.  They will soon be launching a subscription based service where for $9.99/month you can get the same benefits without the commercials.
Launching at the Summit was new music app Slyde.  The app allows artists to provide music and other exclusive content directly to their fans.  An artist can post a single track or a whole album and determine how long it will be available to the listeners.  This means that they could sneak preview a brand new track for one day and then pull it down if they wanted.  Also in the app is the ability to purchase the music directly from iTunes, lyrics for the songs, images, and any information the artist wants to share about the uploaded music.  The service is completely controlled by the artist.  They must approve all content before it will be released to the public.