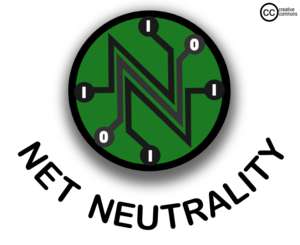 (Posts appear in chronological order with the most recent first)
Net Neutrality Rules Backed by Courts What did the Appellate Court ruling say about all the arguments presented on 12-4-15?
Congress, The Courts, and Net Neutrality A primer on the court case and Congressional activity before the oral arguments at the DC Appellate Court on 12-4-15.
FCC 404's First Interconnection Claim The first Net Neutrality violation claim was filed and the FCC took no action. Why were they able to do so?
FCC Forgets Layer 3 After a conversation with people in the FCC a few distinctions and clarifications are drawn.
FCC Chairman Wheeler Hints at Long-term Net Neutrality Plan at NAB Did the desired results of the Spectrum Incentive Auction influence Net Neutrality rules?
Chairman Wheeler & Me FCC Chairman Wheeler spoke at NAB 2015, what did he have to say about Net Neutrality?
The BIAS of Net Neutrality Rules What the approved Rules said and what they mean to the AV industry
Net Neutrality and the New Reality of Who Might Get Sued What the vague language in Wheeler's proposal could mean and who will get sued
Net Neutrality: The Pieces Align How we got to where we are in February 2015
The FCC Plans Sleight-of-Hand on Net Neutrality The "leaked" FCC plan and what's different
The Information Superhighway's Never Ending Traffic Jam (Net Neutrality & The Internet of Things)
The FCC Could Change The Way You Do Business (An explanation of how the proposed FCC rules impact the AV industry for those not in AV)
Why Net Neutrality Matters to the AV Industry Why you need to pay attention to the battle over Open Internet rules
The FCC is Creating A Convergence Problem How Net Neutrality will alter the VC and UCC landscape
Reactive Policy Isn't Working, Time to Get Progressive The FCC is out of touch and needs stronger ruling on tech developments
Who Can Save Us In the Battle for Net Neutrality Now? If the ISPs are fighting the gov't, who is left to help us?
Netflix Cuts Off Its Nose To Spite Its Customers Netflix buys into Comcast network
Did the Courts Just Slow 4K Acceptance? What the Appellate Court ruling could mean to streaming 4K