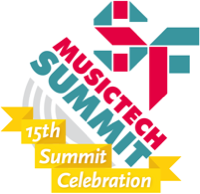 This was my second experience attending the SF Music Tech Summit and it proved to be a drastic difference from the first.  From the high energy start with Brian Zisk, executive producer of SF Music Tech, calling for not one but two primal screams to a networking party bringing the music and tech communities together to share the experiences of the day, the 15th gathering was jam packed full of information and inspiration.
The message that Mr. Zisk conveyed in his opening remarks was one of community.  Those gathered together were there because of their connection to this community and this event is all about connecting people with one another to share our passions and take advantage of the time we have together.
After my first trip to the summit I found that planning a schedule out beforehand was probably going to make my life a whole lot easier.  With up to 5 different panels or meet ups taking place simultaneously, knowing where you want to be throughout the day is key.  I happened to choose to kick off my day with a topic near and dear to me – net neutrality.
Net Neutrality Is An Emotional Topic
I was a little disappointed to see so many open seats in the audience for the discussion on net neutrality because of how important this subject matter is for modern society.  The panel started off by providing a basic definition of what net neutrality is and where the situation currently stands.  The moderator, Julie Samuels of Engine, emphasized that if attendees took anything away from the discussion it would be rule 706 and Title II.  These two things are currently the topic of conversation within the FCC, and the public in general, as to where to classify the internet and its infrastructure.
Julie and the other panelists did an amazing job of providing information on what net neutrality is and gave an impassioned plea to attendees to get involved by reaching out to congressional staffers to share real world stories.  However, this is a subject that is still relatively new in the public conversation due to all the recent developments from the Appellate Court decision earlier this year to the recent FCC hearing and opening up the rules for public discussion.  As such, this session quickly took the path to a town hall meeting with complaints being fired off from the audience about their personal circumstances.  I would have liked to have heard deeper conversation about the real world impact of the decision as well as a more detailed conversation about the kinds of "collateral damage" that could occur if the internet is moved under the Title II classification as was suggested by Tim Pozar of Fandor.
As this is a subject that has such a drastic impact on so many people there is still a lot of emotion behind those that understand what's going on, as well as a massive gap in comprehension for those that don't.  With so much emotion behind the topic there was a lot of cries for what people believe should happen without much focus on how to implement that; a tough task to accomplish in a one hour panel, but the information shared will hopefully get those that attended moving.  The one piece of information left out was the fact that the subject matter is currently up for public discussion on the FCC website.  You can voice your opinion on the record here: http://apps.fcc.gov/ecfs/upload/display?z=kjfj6.
Up next on my agenda was the Elevator Pitch session.  This might have been the session I was most looking forward to because it is the pure essence of community that Brian Zisk promoted to start the day.  This is an open forum where, in a thirty to sixty second pitch, attendees stand in front of the assembled crowd to promote their product, ideas, or themselves.  Here are some of the ideas I heard pitched:
Rapt.fm – described as a "Chat Roulette" for rap battles.
Moodsnap – an image driven radio experience; using the visuals to select a corresponding radio station.
The Harry Fox Agency – music licensing group with over 40K publishers represented.
Musikara – an online collaborative music experience.
Soundbetter.com – a marketplace for musicians to connect to producers/engineers/session players.
Tutti Dynamics – an interactive video platform to practice, learn, & create with your favorite musicians.
Appstageapp.com – an app platform that handles social media on behalf of bands at their shows.
jamlog.com – described as a free version of soundcloud.
Red Note – a text messaging app with the ability to add 8-10 seconds of licensed music.
wimbomusic.com – an app that allows musicians to drop tracks of popular songs in order to play along.
consciousimmaturity.org – organization using existing spaces to provide instruments and educate youth.
smallslive.com – a NYC jazz venue and record label that records & live streams all shows.
musicvideorace.com – site to bring musicians and film makers together to shoot music videos in 48 hrs.
xdjs – a new music discovery service described as "Tindr for music discovery".
musiccitysf.org – a site for free rehearsal space for musicians during the day; adding a nightclub soon.
sounddesignlive.com – Nathan Lively is launching a career coaching program for sound engineers.
As you can see the offerings were extremely varied and demonstrate the community is out there and looking to engage both participants and customers.
Big Data Still Rules Decision Making
After lunch in San Francisco's Japantown I made my way to the panel titled "Making Big Data Small."  Big data might not be the sexiest topic, but it is still so vital to the process of development and discovery because unless you can understand how people are finding and interacting with you and your content it is very difficult to grow that audience.
When you start to examine what 'big data' is capable of these days it can be a little disconcerting.  Essentially consider it as though every company or website you interact with is profiling you and your interests to find ways to keep your attention and eventually get into your wallet.  These companies are then using that information to try to help consumers find more content they would enjoy.  This brought up an interesting question from the audience as to whether the overconsumption of data was impacting the creative process negatively because it is pushing developers to focus on creating content to "get more hits" as opposed to a more organic creative process.
I can see the concern of that idea as it's definitely more apparent today than it has in the past, but the goals of media and content providers has always been to create something with mass appeal and big data is just making that easier to find those audiences than ever before.
My favorite implication that came out of this panel was the emphasis that we, as individuals, are not all snowflakes no matter how much we want to believe we are.  Taste similarities can be tracked.  The people that like a certain video game, book, television show, or musician are being proven to likely enjoy similar media in another area because that is what the data is continually proving.
Other memorable quotes included:
"Music is bigger on Youtube than anywhere else."
"The thrill of discovery on your desktop as opposed to having to go out every night" – discussing the shift in how people used to have to find music in venues but now do so at home or the office.
Internet Radio By The Numbers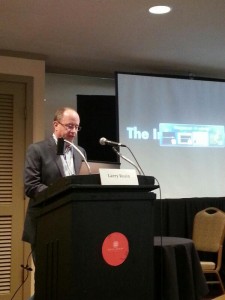 Up next on my agenda was to dart across the Kabuki hotel to catch what was left of Larry Rosin's presentation called "The Infinite Dial" where he was discussing the shift in consumer behavior to streaming music as their primary source of content.
This was a quick presentation with some statistics that might surprise you.  As of 1998 only 6% of people had listened to music over the internet.  That number has increased to 66% of people in 2014.
While that is good information to see the shift in audience, it does not take into account the amount of time people are spending listening to online radio.  Back in 2008 it was estimated that those that listened to online radio would spend 6 hrs 13 min per week doing so.  As of 2014, just 6 years later, that number has more than doubled to 13 hrs 19 min.  And it wasn't a drastic leap as the number has shown consistent growth over that time frame.
The majority of people listening to these internet radio stations are doing so on their mobile phones, but there is an emerging market in the last few years as the solution has become available for cars.  Only four years ago, in 2010, just 6% of drivers used online radio.  But as of the most recent survey up to 26% of drivers use online radio.
The biggest surprise of the presentation was the source of where people were getting their internet radio.  As of this presentation, people's awareness of internet radio was largely based around Pandora with 70% of those surveyed having heard of it.  After that was a drastic drop off to 48% awareness with iHeartRadio, 47% with iTunes Radio, 40% with Rhapsody, and only 37% awareness of Spotify.  This definitely took me by surprise as Spotify has become my internet radio option of choice.
If you'd like to see the statistics from this presentation, they are posted online by Edison Research here.
This takes you through the first part of my experience at SF Music Tech Summit 15, check out part 2 here.