We are just a few days away from the start of the 3 day training sessions at InfoComm 2014 in sweltering Las Vegas, NV.  So it was time to start letting you all in on what I'm going to be up to next week, this way if you want to meet up, have a chat/debate, or just say hi you'll know all the great activities of which I have the privilege of being involved.
Monday – InfoComm Plenary
If you're going to be in Vegas on Monday, and don't yet know what to do with yourself, InfoComm will be hosting a plenary to discuss the current and future state of standards.  Individuals that have participated in the standards task groups will be celebrated and there are potential CTS-RUs to be had.
Tuesday – I'll be around
A day of preparations for the rest of the week.  Feel free to reach out to me but I might be preoccupied as there is much to prepare for with what's coming later in the week.
Wednesday – Let The Show Begin!!!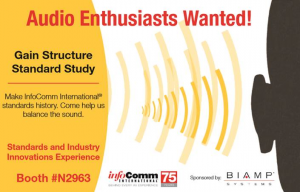 Standards, Net Neutrality & AVTweetup
Like most folks I will be looking around with my head on a swivel to catch all the gloriousness that is the first impression at an InfoComm show.  But as that morning gets rolling I can be found at the InfoComm Standards
booth (N2963).  Once you are done checking out what Microsoft has to offer and grabbing a bite in the North Hall food court, swing by and add your audio knowledge to the survey as InfoComm looks to set an official Gain Structure Standard.  We will have activities to determine if you can identify which DSP element is causing the signal issue, find out if you can set proper gain structure using piezo drivers, and see if you can guess the amplifier power – it'll be some Serious Fun.
That afternoon at 1:30 I'll be darting up to the AVNation media room (N217) to host the only discussion on Net Neutrality taking place at InfoComm 2014.  Joining me will be Robb Woods Head of Sales Engineering at Blue Jeans, Simon Dudley, a Video Evangelist at Lifesize, Bob Romano of Avaya, and possibly another guest or two.  Drop by and watch the conversation, tune in live on YouTube, or check it out at avnation.tv later as we examine what the impact of the FCC's proposed rules for Net Neutrality mean to the AV industry.
At 4:30 you should head up to the AVNation media room yourself (Room N217) for the AVTweetup.  Come and meet the people behind the head shots/avatars of your favorite social media sites!  There will be drinks, snacks and prizes!  You can still register to join this party here.
Thursday – We're Just Getting Started
Audio DSP Course and more InfoComm Standards.
Thursday at 10:30 am to noon I will be teaching my course "Audio DSP Fundamentals".  If you still have an open spot in your schedule it is course number IS043.  Sign up and join me as I talk about DSP elements and the reasoning behind how and why we use them in different scenarios.
Once I've finished my course I'll be heading back to the InfoComm Standards booth.  If you missed out on sharing your audio expertise on Day 1, now's your time to swing by the and show what you know.
Friday – It's Over Already?!
Hard to believe 3 days can go so quickly.  This will be the day I'm intermittently wandering the show floor or helping out at the InfoComm Standards booth.  Shoot me a message, now that we've connected on Twitter after the AVTweetup, and let me know what I need to make sure I see before the show closes its doors until 2015 in Orlando, FL.